Why do we get Brain Freeze?
[Sphenopalatine Ganglioneuralgia]
Posted on
May 29, 2012
by
Wiley Life Sciences Blog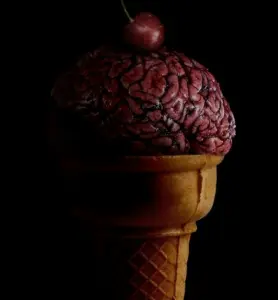 Have you ever wondered why you get "brain freeze" when you eat something cold such as ice cream or a milkshake?

That sudden pain in your forehead is known in medicine as sphenopalatine ganglioneuralgia.



It is caused by having something cold touch the roof of the mouth (palate), or the total immersion in water that is generally below 15°C (or 10°C or even 5°C for some acclimated open water swimmers). It is believed to result from a nerve response causing rapid constriction and swelling of blood vessels or a "referring" of pain from the roof of the mouth to the head.
An ice cream headache is the direct result of the rapid cooling and rewarming of the capillaries in the sinuses.

A similar but painless blood vessel response causes the face to appear "flushed" after being outside on a cold day. In both instances

,

the cold temperature causes the capillaries in the sinuses to constrict and then experience extreme rebound dilation as they warm up again.


In the palate, this dilation is sensed by nearby pain receptors, which then send signals back to the brain via the

trigeminal nerve,

one of the major nerves of the facial area. This nerve also

senses facial pain, so as the neural signals are conducted the brain interprets the pain as coming from the forehead—

the same "referred pain" phenomenon seen in heart attacks.
..................................................
Levity never hurts a person thus, this funny article is included here for your enjoyment.
Always laugh when you can. It is cheap medicine.