In this photograph taken on May 16, 2010 two-year-old Indonesian boy Ardi Rizal puffs on a cigarette while playing on a plastic toy jeep in the yard of his family home in a village on Sumatra island. A new video of a smoking Indonesian toddler has emerged to shock health experts and provide further graphic illustration of the Southeast Asian country's growing addiction to tobacco. His father reportedly gave him his first cigarette when he was 18 months old and now he smokes 40 a day. Child Protection Ministry official Heru Kasidi said the family would be investigated for what would be considered a clear case of child abuse in many countries.

Indonesia's smoking epidemic – an old problem getting younger
Many male smokers now start their habit at age seven, with activists blaming weak regulations and the tobacco industry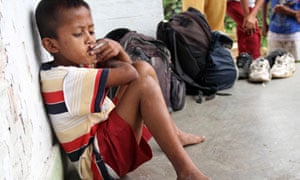 He is a thoroughly modern icon: the cherubic toddler now known around the world as the "
smoking baby
." More than 13 million people have watched a YouTube clip of the two-year-old puffing hungrily on cigarette after cigarette, twirling them in his hands. But while many viewed this video with amusement and perhaps some shock, it appears this "smoking baby" is just the tip of the iceberg.
Indonesia, the fourth most populous country on earth, appears to be in the throes of an uncontrolled tobacco habit. It is a place where domestic and international tobacco companies are able to operate ways they haven't been able to in the U.S. for 41 years.
This is a country where, as soon as a visitor steps off the plane, he is bombarded with cigarette ads on billboards and logos; and where, as "2020" found out, there is more than one "smoking baby."
In a tiny fishing village in Eastern Java, lives an adorable
two-year-old boy
named Chairul. Soon after awaking from a nap, he lights up with the help of his own grandfather. The grandfather says he allows Chairul to smoke because it tastes good, "like bread with chocolate."
As Chairul smokes beside him, his grandfather said he doesn't think it is a problem.
"He sometimes smokes two packs a day," he said, though it appears Chairul does not inhale. Yet he puffs away, exposed to the smoke around him.
When warned about the health effects of cigarettes, Chairul's grandfather said: "If the boy doesn't smoke, he doesn't feel good." It's all right, he said, "as long as he drinks enough coffee with his cigarettes."
As strange as that may seem, Chairul is no fluke. In a town a few hours to the south, "20/20" found a seven-year-old boy who also smoked while his family looked on.
His name is Maulana, and his mother said he has been smoking since he is two, but she hopes he quits when he goes to school this year.
As to why she allows her son to smoke, Malauna's mother said: "I can't just stop him abruptly, because he gets weak and cries. It has to be done slowly."
It is estimated that about a million children in Indonesia under the age of 16 smoke, and that one third of Indonesian children try smoking before the age of 10. In Indonesia, it is perfectly legal for a child of any age to buy and smoke cigarettes.
This, despite hundreds of international studies showing tobacco is addictive and harmful. The World Health Organization says tobacco kills more than five million people annually.
In the U.S., tobacco companies haven't been allowed to advertise on TV in 41 years. So, unable to market freely at home, big tobacco has increasingly turned overseas, where they are using the very tactics to reach young people that have long been banned in America